Cookie Policy
Last updated on: February 2022
This Cookie Policy is an integral part of the Legal Notice and Privacy Policy of the website www.jesac-project.com (hereinafter referred to as the "Website"). By clicking Accept, you expressly agree to the use of cookies. If you disable Cookies, your browsing experience on the Website may not be optimal and some functionalities of the Website may not work properly.
In order to facilitate navigation of the Website, the owner of the Website, FUNDACIÓN OXFAM INTERMÓN (hereinafter, "OXFAM INTERMÓN″), informs you that it uses cookies or other files with similar functionality (hereinafter, "Cookies″). For this reason, and in order to provide the user with all the information necessary for proper navigation of the Website, we provide users with the following information on what cookies are, what types of cookies are used on our Website and how they can configure or disable them.
In the event that the use of cookies involves the collection of personal data, we inform you that OXFAM INTERMÓN is the service provider of the cookies and is responsible for the processing of personal data obtained through its own cookies and those of third parties. Given that it is OXFAM INTERMÓN who decides the purpose, content and use of the processing of the information that has been collected, acting as the party responsible for the processing of personal data that may be collected from the use of Cookies.
1. WHAT IS A COOKIE
Cookies are files containing small amounts of information that are downloaded to a user's device when visiting a website. Their main purpose is to recognise the user each time he/she visits the website and to enable the quality and usability of the website to be improved.
Cookies are essential for the functioning of the Internet; they cannot cause any damage to the user's equipment/device and, when enabled in the browser settings, can help to identify and resolve possible malfunctions on the website.
This Website uses cookies and/or similar technologies that collect and store information while you browse. In general, these technologies can be used for many different purposes, such as to recognise you as a user, to obtain information about your browsing habits or to personalise the way in which content is displayed. The specific uses we make of these technologies are described below.
2. USE OF COOKIES
By clicking the Accept button, you expressly agree to the use of this type of cookies on your devices. If you disable Cookies, it is possible that your browsing experience on the Website may not be optimal and that some functionalities of the Website may not work properly.
In particular, we use Cookies for the purposes explained below. You will be informed if other cookies are used in the future in order to additionally offer improved services.
3. WHAT TYPE OF COOKIES ARE USED ON THE WEBSITE AND FOR WHAT PURPOSES?
We use own and third party cookies for the purposes described below.
THIRD-PARTY COOKIES
Third-party cookies are cookies sent to the user's terminal equipment from a device or domain not managed by OXFAM INTERMÓN, but by another entity that processes the data obtained through the cookies. We use the following third-party cookies: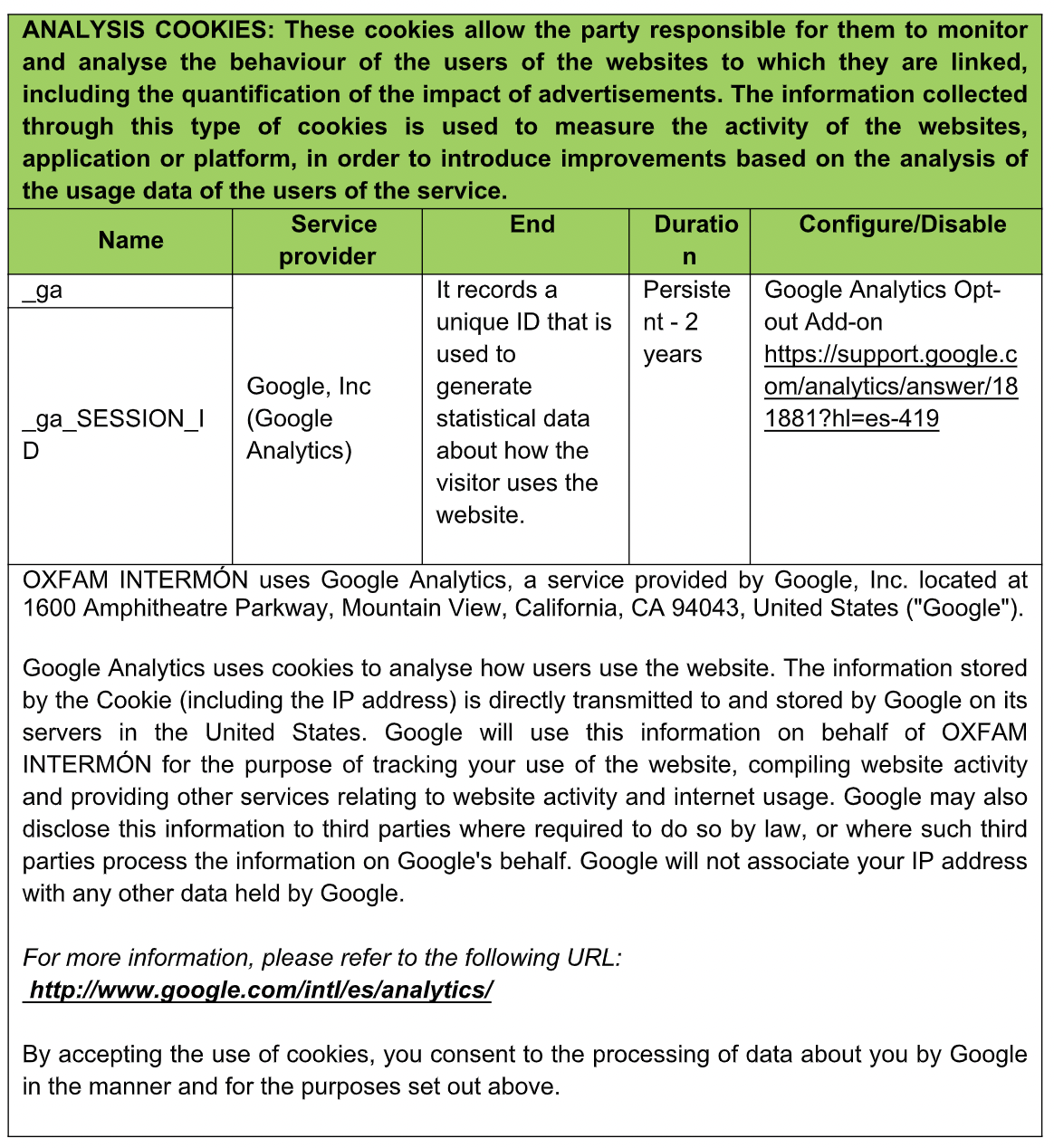 4. ACCEPTANCE, REFUSAL, REVOCATION OF CONSENT OR DELETION OF COOKIES
Giving consent Please note that by clicking on the "Accept" button in the Cookies Banner, you consent to the use of the aforementioned cookies on your device.
Revocation of consent For each of the cookies listed above, we provide you with the option to disable them via a link to the disable function of each cookie provider.
Likewise, by clicking on the "Reject" button in the Cookies Banner, you can directly reject the use of the aforementioned cookies on your device.
User settings to prevent cookies You can enable or disable cookies, as well as delete the browsing history (including cookies) of your browser. Please refer to the options and instructions provided by your browser. Please note that if you accept third party cookies, you must delete them from the options menu of your browser.
The following information is provided in compliance with the current regulatory framework, so that you can configure the privacy and security settings of your Internet browser(s) with respect to Cookies. To this end, we provide information and links to the official support websites of the main browsers, so that you can choose whether or not to accept the use of Cookies.
You can block Cookies through your browser settings, or you can set your browser to notify you when a server wants to store a Cookie:
a) If you use Microsoft Internet Explorer, the option can be found in: Tools menu > Internet Options > Privacy > Settings > Advanced. For more information: http://windows.microsoft.com/es-es/windows-vista/block-or-allow-Cookies and http://windows.microsoft.com/es-es/windows7/how-to-manage-Cookies-in-internet-explorer-9.
b) If you use Firefox, you can find the option under: Tools menu > Preferences > Privacy > Cookies. For more information: http://support.mozilla.org/es/kb/habilitar-y-deshabilitar-Cookies-que-los-sitios-we.
c) If you use Chrome, go to Tools menu > Advanced settings > Privacy. For more information: https://support.google.com/accounts/answer/61416?hl=es
d) If you use Opera, go to the Security and Privacy Menu. For more information http://help.opera.com/Windows/11.50/es-ES/cookies.html
e) If you use Safari, you will find the option in the Preferences/Privacy menu. For more information: http://support.apple.com/kb/HT1677?viewlocale=es_ES
5. DATA TRANSFERS TO THIRD COUNTRIES
OXFAM INTERMÓN has contracted the services of suppliers located outside the European Economic Area ("Third Countries"). These suppliers have signed the confidentiality and data processing contracts required by the regulations for suppliers located in Third Countries, applying the necessary guarantees and safeguards to preserve their privacy. These guarantees and safeguards consist of European Commission adequacy decisions and/or standard contractual clauses approved by the European Commission.
You may be informed of such transfers to third parties, if any, by the third parties identified herein in their respective cookie policies (see the links provided in the "Third Party Cookies" section of their Cookie Policy).
6. PROFILING INVOLVING AUTOMATED DECISION-MAKING WITH LEGAL MPLICATIONS FOR THE USER OR SIGNIFICANTLY AFFECTING THE USER
The aforementioned cookies are not used to create profiles that involve automated decision-making with legal implications or that significantly affect users.
7. CONSERVATION PERIOD
Personal data obtained through the use of cookies will be stored for the period indicated in section 3 of this Cookie Policy and, after this period has elapsed, for the applicable legal limitation period depending on the purpose.
8. YOUR RIGHTS
To withdraw your consent to the use of Cookies and/or exercise your rights of access, rectification, cancellation and portability, limitation and/or opposition to the processing of your data, you can contact us at OXFAM INTERMÓN, S.A., with registered office at Gran Vía de les Corts Catalanes, 641, 08010 Barcelona and/or contact our Data Protection Officer at the following e-mail address: dpo.oxfamintermon@Oxfam.org
If you consider that the processing of your personal data infringes the regulations or your rights, you may file a complaint with our Data Protection Officer at the addresses above, or with the Spanish Data Protection Agency.
Please refer to the Privacy Policy for information about your rights and how you can exercise them.